Jeremy Chambers
Interim Chair, Associate Professor
Department of Environmental Health Sciences
---
Office: AHC4, Room 232
Phone: 305-348-4648 / 305-348-4844
Email: jwchambe@fiu.edu
Focus
Drug discovery, Mitochondria-cell communication, neurotoxins, protein kinases, protein-protein interactions
Biography
Dr. Jeremy Chambers is a native of West Virginia and a tenured associate professor. He earned his Ph.D. in Biochemistry from Clemson University for his research on hexokinase biochemistry and druggability in Trypanosoma brucei, the causative agent of human African sleeping sickness.  During a postdoctoral appointment at the University of Pennsylvania, Dr. Chambers went on to study how tumor-initiating viruses, like human cytomegalovirus, alter cellular metabolism. In his second postdoctoral position in the laboratory of Philip V. LoGrasso at the Scripps Research Institute, he was instrumental to the development and validation of highly selective, brain-penetrant inhibitors of the c-Jun N-terminal kinase (JNK) as potential therapies for Parkinson's disease. It was during this time that Dr. Chambers made the critical discovery that localization of JNK species on mitochondria was crucial for the induction of cell death. He specifically demonstrated that selectively inhibiting the interaction between JNK and the outer mitochondrial scaffold protein Sab was instrumental in protecting cells and tissues from toxic exposures.
Upon his arrival at Florida International University, Dr. Chambers established the Laboratory of Mitochondrial Communication with the overarching goals of:
(1) characterizing mechanisms responsible for mitochondria and cellular coordination.
(2) develop effective therapies against neurological disorders and neurotoxin exposures
His research uses state-of-the-art methods in biochemistry, drug discovery, neuroscience, and toxicology integrated with systems biology approaches like proteomics and network analysis. By targeting pathological changes in mitochondria (our cellular power plants), new therapeutics that preserve mitochondrial health could be used to treat human diseases such as cancer and Parkinson's disease and even offset the effects of aging.
Research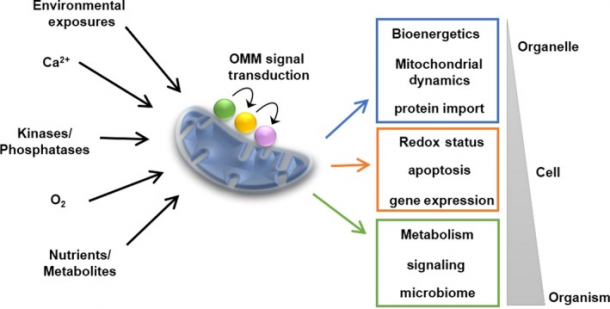 Understand control of our brain's power plants (mitochondria): Mitochondria are integral to our nervous system, and significant crosstalk between cell and mitochondria is required for proper brain function. Disturbing this communication drives mitochondrial dysfunction and disease. Unearthing the proteins engaging in mitochondria-cell signaling will provide insights into how cells in the brain, namely neurons, align cell processes with mitochondrial function. The lab identifies protein-protein interactions at the organelle-cell interface and examines the impacts of each on mitochondrial and cellular physiology. The group assesses how chemicals from the environment and aging alter mitochondrial-cell crosstalk  and how these changes affect human health and disease.
---
Discover new targets to treat brain disorders: Signaling proteins on the outer mitochondrial membrane (OMM) are regulators of organelle function, and perturbations in OMM signaling proteins can adversely alter mitochondria. Our team utilizes genetic and chemical methods to restore healthy OMM signaling to combat disease. For example, JNK localization on the OMM is increased in models of Parkinson's disease (PD), and preventing JNK migration to mitochondria protects the neurons affected in PD patients. Our research is funded by the Michael J. Fox Foundation (Grant 12117; Mitochondrial outer membrane signaling as therapeutic targets for Parkinson's disease).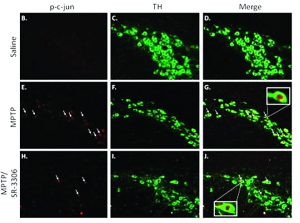 From: Chambers, et al, ACS Chem Neuro (2011).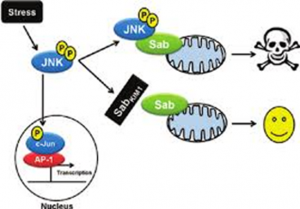 From: Chambers, et al, ACS Chem Bio (2011).
---
Design countermeasures against chemical weapons: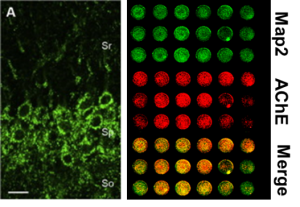 From: Sodero, et al, Brain Res (2017).
Organophosphates (OP) are well-known neurotoxins that include chemical weapons and pesticides. OP exposures can have long-term neurological effects that affect specific neuron populations in the brain. Dr. Chambers' lab seeks to use high-throughput drug discovery techniques to find molecules to counteract short-term and chronic effects of OP exposures. 
---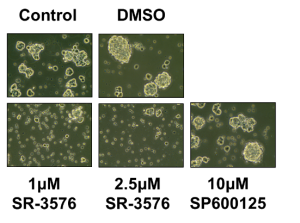 Personalized therapies for brain tumors: Glioblastoma is the most common and aggressive (mean survival ~15 months) brain cancer in adults, and current treatment strategies have a modest impact on disease outcomes. In collaboration with the Neuroscience Center at Baptist Health South Florida and the Miami Cancer Institute, Dr. Chambers' team uses patient tumor samples in xenograft and cell-based studies to find biomarkers and interventions that may improve patient survival.
Education
Postdoctoral Associate, Molecular Therapeutics, The Scripps Research Institute, Florida
Postdoctoral Associate, Department of Cancer Biology, University of Pennsylvania
Ph.D. Biochemistry, Clemson University
Bachelor of Science, West Liberty University
Patents
US Patent US10078090; SAB as a biomarker for degenerative diseases and therapeutic sensitivity in cancers. September 18, 2018.
Publications
For a complete list of Dr. Chambers' publications, please visit: https://www.ncbi.nlm.nih.gov/myncbi/1z3h3p8bO3RkS/bibliography/public/
Lucero, M, Suarez, AE, and

 

Chambers, JW.

 

Phosphoregulation on mitochondria: integration of cell and organelle responses.

 

CNS Neurosci Ther. (2019). 00: 1–22. https://doi.org/10.1111/cns.13141. PMID: 31025544.


Rodriguez-Silva, M, Ashourian, KT, Smith, AD, and

 

Chambers JW,

 

Assessment of Mitochondrial Stress in Neurons: Proximity Ligation Assays to Detect Recruitment of Stress-Responsive Proteins to Mitochondria.

 

Neuromethods: Cell Culture Techniques.

 

DOI: 10.1007/978-1-4939-9228-7_6


Paudel, I., Hernandez, S.M., Portalatin, G.M., Chambers, T.P., and

 

Chambers, J.W.

 

Sab concentrations indicate chemotherapeutic sensitivity in ovarian cancer cell lines.

 

Biochem J. 475(21). (2018). 3471-3492. PMID: 30322886.


Sodero, AO, Rodriguez-Silva, M, Sailo, C, Sassoe-Pognetto, M and

 

Chambers, JW.

 

Sab is differentially expressed in the brain and affects neuronal activity.

 

Brain Res. 1670. (2017). 76-85. PMID: 28606781.


Chambers TP, Santiesteban, L, Gomez, D,

 

Chambers JW.

 

Sab mediated mitochondrial dysfunction involved in imatinib mesylate-induced cardiotoxicity.

 

Toxicology. 382. (2017) 24-35. PMID: 28315715.


Vanbellingen, QP, Castellanos, A, Rodriguez-Silva, M, Paudel, I,

 

Chambers, JW, and Fernandez-Lima, F.

 

Analysis of chemotherapeutic drug delivery at the single cell level using 3D-MSI-TOF-SIMS.

 

J Am Soc Mass Spectrom.

 

27(12). (2016). 2033-2040. PMID: 27582118.


Chambers TP, Portalatin GM, Paudel I, Robbins CJ,

 

Chambers JW.

 

Sub-chronic administration of LY294002 sensitizes cervical cancer cells to chemotherapy by enhancing mitochondrial JNK signaling.

 

Biochem Biophys Res Commun.

 

463(4). (2015). 538-44. PMID: 26032505.


Prado, A, Petroianu, GA, Lorke, DE, and

 

Chambers, JW.

 

A Trivalent Approach for Determining

 

In Vitro

 

Toxicology: Examination of Oxime K027.

 

Appl. Toxicol.

 

35(2). (2015) 219-227. PMID: 24853289.


Feng, Y,

 

Chambers, JW, Iqbal, S, Koenig, M, Park, H, Cherry, L, and LoGrasso, PV.

 

Design and Discovery of Small Molecular Bidentate-Binding, Dual Kinase Probe of the LRRK2 and JNK3 Kinases.

 

ACS Chem. Bio. 8(8). (2013). 1747-1754. PMID: 23751758.


Chambers, JW, Pachori, A, Howard, S, Iqbal, S, LoGrasso, PV.

 

Inhibition of JNK Mitochondrial Localization and Signaling is Protective Against Ischemia-Reperfusion Injury in Rats.

 

J Biol Chem. 288(6). (2013). 4000-4011. PMID: 23258542.


Chambers, JW, Howard, S, LoGrasso, PV.

 

Blocking c-Jun N-terminal Kinase (JNK) Translocation to the Mitochondria Prevents 6-Hydroxydopamine-induced Toxicity in Vitro and in Vivo.

 

Biol. Chem. 288(2). (2013). 1079-1087. PMID: 23184940.


Chambers, JW, Cherry, L, Laughlin, JD, Figuera-Losada, M, and LoGrasso, PV.

 

Selective Inhibition of Mitochondrial JNK Signaling Achieved Using Peptide Mimicry of the Sab Kinase Interacting Motif-1 (KIM1).

 

ACS Chem. Biol. 6(8). (2011). 808-818. PMID: 21563797.


Chambers, JW, and LoGrasso, PV.

 

Mitochondrial c-jun-N-Terminal Kinase (JNK) Signaling Initiates Physiological Changes Resulting in Amplification of Reactive Oxygen Species Generation.

 

Biol. Chem. 286(18). (2011). 16052-16062. PMID: 21454558.


Chambers, JW, Pachori, A, Howard, S, Ganno, M, Hanson, D, Kamenecka, T, Song, X, Duckett, D, Chen, W, Ling, YY, Cherry, L, Cameron, MD, Lin, L, Ruiz, CH, LoGrasso, PV.

 

Small Molecule c-jun-N-terminal Kinase (JNK) Inhibitors Protect Dopaminergic Neurons in a Model of Parkinson's Disease.

 

ACS Chem. Neurosci.

 

2(4). (2011).

 

198-206. PMID: 21666839