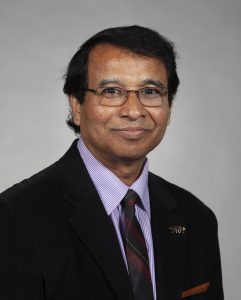 Bio
Current research focus
His research focuses on chronic disease, cancer epidemiology, health disparities, risk reduction, intervention development and evaluation, and modeling.
Ongoing projects:
Currently, he is leading a cancer health disparity study that examines barriers and empowering factors among multi-ethnic women groups aiming to develop innovative and sustainable interventions to address the disproportionate disease burden among underserved populations. His research includes analysis using national/international databases to assess policy and program impact on health disparities.
Relevant past or current dissertations chaired
Health disparity in breast and cervical cancer and development of innovative intervention among a multi-ethnic community.
Health disparity in cervical cancer screening and follow-up behaviors, incidence, and mortality in Florida.
Associations among physical activity, sedentary behavior, attention-deficit/hyperactivity disorder and obesity in school-aged children and adolescents.
Personal and parental characteristics, and home and day-care environmental determinants of childhood obesity in Daycare Centers.
Determinants and disparities of survival in triple-negative breast cancer patients: a population-based retrospective longitudinal cohort design utilizing the cox proportional hazard analytical model.
Analysis of red-light camera an intervention to reduce traffic accidents and fatalities in Miami-Dade County.
Use of structural equation modeling to examine the association between breast cancer risk perception and repeat mammography in U.S. women.
Proud moment of your mentees
All his PhD graduates are placed in their desired positions. One of them became associate professor position after graduation, and another is promoted to chief management officer at a major organization.