[caption id="attachment_15783" align="alignright" width="296"]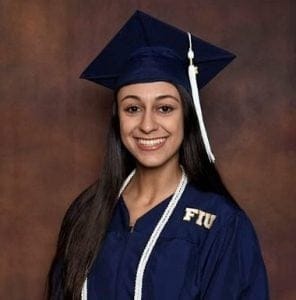 MPH student Samantha Baudin earned an undergraduate degree from FIU in 2019.[/caption]
When the world turned upside down, Samantha Baudin took a leap of faith.
Working part-time and studying for the MCAT, the 2019 alumna with a BS in biology lost focus amid the pandemic and social upheaval of last year. She doubted she could achieve the score she wanted on the all-important exam and felt stress had put her in the wrong frame of mind to pursue medical school. Instead, she began investigating the accelerated MPH degree at the Robert Stempel College of Public Health & Social Work and soon after dove into the year-long program, which she started in the fall.
"I didn't realize when I was applying what I was in for," Baudin says, "and what I mean by that is I didn't realize how much I needed this to be a better medical student, to be a better physician in the future."
With a mentor in Dr. Mary Jo Trepka, from whom she took one of her first classes, Baudin learned how medical training combined with public health expertise could benefit the greater community. Dr. Trepka for years served as the director of epidemiology and disease control for the Miami-Dade County health department and currently sits on the county mayor's COVID-19 advisory board in addition to leading campus virus prevention efforts. "She's been an example of how you can incorporate science and health into government-type work," Baudin says.
It was through her courses that Baudin grew aware of various aspects that she had rarely before considered and now accepts as critical for anyone thinking to go into medicine.
"I realized that in order to be a better physician, I needed to understand the people that I would serve in the future, the communities that I would be contributing to," she says "That is, understanding their background, their social situation, what are their living conditions, things that necessarily don't have to be medical conditions but that would consequentially contribute to their medical conditions."
As part of her studies, Baudin had the chance to participate in a series of seminars with politicians, policymakers and others at the invitation of the FIU in DC office, the university's advocacy arm in the nation's capital. That experience proved to be, as she describes it, a second leap of faith as she initially had little interest in what seemed tangential to her degree. But she soon changed her mind.
Baudin says the conversations made it clear she could one day do more for those seeking health care, "not just treating them as a provider, not just seeing them at medical visits or in the hospital." Instead, she came to recognize a larger opportunity to address the disparities endemic to the U.S. system. "I need to advocate for the people who, unfortunately, are experiencing differences, unfair differences, because of their background or their circumstances."
Determined to work in the public health arena before applying to medical school, the aspiring doctor believes the foundation given her by the Robert Stempel College of Public Health & Social Work has provided the skills to truly effect change.