Tomás R. Guilarte, Ph.D., dean of the Robert Stempel College of Public Health & Social Work and professor in the Department of Environmental Health Sciences at Florida International University, is the recipient of this year's prestigious Society of Toxicology Translational Impact Award. The Society of Toxicology (SOT) is a professional and scholarly organization of scientists from academic institutions, governments, and industries representing the individuals who practice toxicology. It is the largest scientific society of its kind, with over 8,000 members from over 70 countries.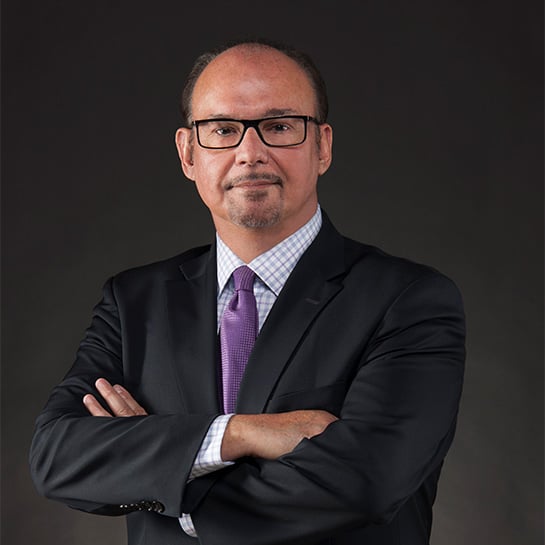 Tomás R. Guilarte, Ph.D., dean of Stempel College and recipient of the 2022 Society of Toxicology Translational Impact Award
The SOT Translational Impact Award recognizes a scientist whose recent outstanding environmental health and translational research has improved public health in an area of toxicological concern. In addition, the award shines a light on the scientist's efforts in leading a multidisciplinary team to contribute to alleviating toxicity-related health problems. He will receive the award and provide a lecture on the topic at the Annual Meeting of the Society of Toxicology in March 2022 in San Diego, California.
"Dr. Guilarte's impressive body of work clearly demonstrates how toxicological research can translate to an improved understanding of public health, which is why we are honored to present him with the 2022 SOT Translational Impact Award," said Dr. Ilona Jaspers, 2021–2022 SOT Awards Committee Chair.
Dr. Guilarte noted, "receiving this society-wide award is a tremendous honor for me because the SOT Awards Committee comprises peers from diverse scientific backgrounds, and I deeply value their recognition of our research. This award also recognizes our excellent team of doctoral students, postdoctoral fellows, research staff, faculty and collaborators at FIU and other universities that contributed to this work."
Dr. Guilarte was selected for this award for his pioneering work in validating and applying a biomarker of neuroinflammation called Translocator Protein 18 kDa (TSPO) that is now used to study neurodegenerative, neurological, and mental disorders using neuroimaging technologies such as Positron Emission Tomography. His current work focuses on understanding the function of this protein in the brain, and his research has been continuously funded by the National Institute of Environmental Health Sciences for over 20 years.
"Many years ago, during the end of my postdoctoral fellowship in his laboratory, Dr. Guilarte had the idea that TSPO could be a biomarker for brain damage caused by neurotoxicants, and soon he had data supporting this idea and received a grant from the National Institutes of Health," said Dr. David A. Jett, program director in the division of Translation Research at the National Institute of Neurological Disorders and Stroke and award nominator. "His use of Positron Emission Tomography demonstrated the utility of TSPO-PET imaging as a biomarker of neurotoxicity. Since then, his studies have made a significant impact on translational research related to neurological diseases and disorders such as Alzheimer's Disease, Parkinson's Disease, Traumatic Brain Injury, and Amyotrophic Lateral Sclerosis."
Dr. Guilarte has received numerous recognitions, including the 2018 Society of Toxicology Hispanic Organization of Toxicologists Distinguished Toxicologist Award, the 2020 Society of Toxicology Metals Specialty Section Career Achievement Award, and was inducted into the Academy of Science, Engineering, and Medicine of Florida in 2020.
"Based on Dr. Guilarte's expansive and impactful body of work, particularly in the last decade, it is no surprise he was selected as this year's SOT Translational Impact Award recipient," said Dr. Jason Richardson, associate dean for research at Stempel College and award nominator. "His ground-breaking research on TSPO has led to countless discoveries which have further validated the protein as a biomarker of neurotoxicity and neuroinflammation. It's his relentless commitment and dedication to improving health for all that makes him deserving of this recognition."
Dr. Guilarte became dean of Stempel College in January 2016 after serving as the Inaugural Leon Hess Professor and Chairman of the Department of Environmental Health Sciences at Columbia University-Mailman School of Public Health in the City of New York and professor at the Johns Hopkins University Bloomberg School of Public Health. In the past six years, Stempel College has seen tremendous growth—its research funding has quadrupled under Guilarte's leadership and has led to impactful research in brain health, health disparities, dietetics and nutrition, and global health. More on the college's successes are available in its 2021 Impact Report.
The 2022 SOT Award recipients and new Honorary members will be honored during the Society's Annual Meeting and ToxExpo in San Diego, California, March 27–31, 2022.
For more information, visit: https://www.toxicology.org/events/am/AM2022/index.asp