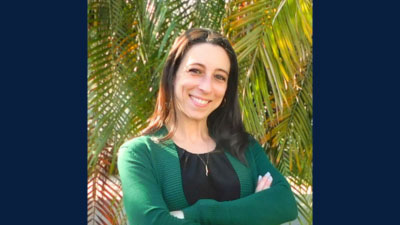 Nicole Vitale, a Ph.D. candidate in the Department of Dietetics and Nutrition at FIU's Stempel College, shares her story of how she became a registered dietitian.
What inspired you to become a registered dietitian?
As food and nutrition play a major role in health and overall well-being, I wanted to become well-versed in the field of dietetics and nutrition to help others develop and maintain healthy habits. Many common ailments we see in the US population can be prevented or reversed with proper nutrition and lifestyle changes, and dietitians have the knowledge and ability to help guide patients and clients into making healthy choices and dietary changes.    
Tell us about your journey and how you got to where you are today.
Before becoming a dietitian, I was a preschool and kindergarten teacher. Within a few years of teaching, I decided I wanted to take a different path in life. After enrolling in a nutrition course at FIU, I realized this was the right field for me. I was accepted into the master's program for Dietetics and Nutrition at FIU in 2018. Toward the beginning of my program, I joined a nutrition research team and conducted a research study for my master's project. This made me realize how much I truly enjoyed nutrition research and led me down the path of applying for the Ph.D. program. I am now in my 3rd year as a Ph.D. student in the Department of Dietetics and Nutrition with plans to graduate in 2024.   
What's your goal for the future?
My research interests are focused on nutrition education for children, schools, and parents. After obtaining my Ph.D., I plan to continue developing nutrition education programming for these populations to help promote healthy nutrition behaviors and improve the health of our nation's youth.
What advice can you give students who want to pursue this career?
There are many opportunities for students who seek to pursue a career in dietetics. Although many dietitians find themselves in the clinical setting after graduation, the field of dietetics is diverse with many avenues. From sports nutrition to research to private practice and beyond, the possibilities are endless. I would advise dietetic students to gain as much volunteer experience while taking coursework to have an idea of the different areas that the field of dietetics has to offer. Then, once it's time for the dietetic internship, immerse yourself in the experience and gain as much knowledge from your preceptors as possible. That way, once you become a dietitian, you will have a better idea about your likes and dislikes which can guide you in the right career path.   
What's the difference between an R.D. and a nutritionist?
R.D.s can be found in hospitals, schools, and government agencies, and are able to conduct research.

Anyone can call themselves a nutritionist. The difference between an R.D. and a nutritionist is the academic and licensing requirements, which may vary by state. There are no regulations or formal education required to claim the title of a nutritionist. Nutritionists are not licensed to practice by the state—anyone can take a course to become a nutritionist.
In the state of Florida, there are eligibility requirements needed to become a licensed registered dietitian. Learn more about the requirements needed.
Explore a degree in Dietetics and Nutrition at FIU's Robert Stempel College of Public Health & Social Work.