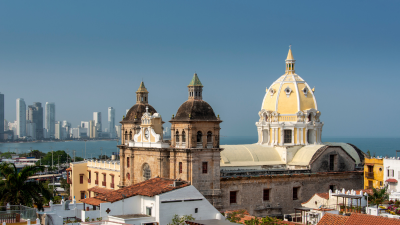 The Global Health Conference of the Americas will take place this week September 13-15, 2023, in Cartagena, Colombia, and convene leading public health, medical, and academic experts to discuss global health challenges and opportunities to improve the health of communities.
You can join virtually by registering at ghc2023.com.
The 3-day conference is packed with exciting and thought-provoking seminars, workshops, and networking opportunities that aim to inspire, educate, and spark dialogue among conference attendees. It is presented by the Global Health Consortium at FIU's Robert Stempel College of Public Health & Social Work in partnership with partners and sponsors.
Main topics
Immunizations in the Americas, in partnership with SLIPE 
Pediatric Global Health, in partnership with SCP
Cervical Cancer Elimination, in partnership with PAHO/WHO
Prevention of arboviral diseases in the Americas, in partnership with PAHO/WHO
Climate Change and its impact on Health, in partnership with FIOCRUZ 
"As global health leaders, these past few years have cemented how critical it is for us to reflect and prepare for what the future might bring," said Dr. Carlos Espinal, Director of the Global Health Consortium. "Conferences like this one help us come together to develop recommendations that organizations and governments can implement to protect their communities."