Tell us a little bit about yourself. What's your background and what type of research do you focus on?
I received my doctoral degree in psychology in 2002 from Georgia State University and obtained a 2-year post-doctoral fellowship at the Centers for Disease Control and Prevention (CDC).
At the CDC, I worked in the Division of HIV/AIDS Prevention and worked on several projects including an intervention focused on injection drug users who live with HIV; and a study on HIV prevention and Latino youth. After my post-doctoral fellowship, I worked at several academic institutions as a researcher before coming to FIU. I have been a faculty in the Epidemiology department at FIU since 2014, and I am currently an Associate Professor and the Graduate Program Director.
The type of research that I focus on is primarily on people living with HIV with a special interest in older people and aging issues that arise from living with HIV. I am very interested in complementary medicine approaches such as yoga and tai chi and developing these types of interventions for people living with HIV.
What makes this doctoral program unique?
I think what makes our program unique is the faculty. In addition to being experts in their respective fields, the faculty are very approachable and open to working closely with students. The faculty is extremely encouraging and supportive of students by including them on their research teams.
In fact, students are integrated into faculty research from their first semester. Students are encouraged and expected to publish their research during their doctoral program. Because of this focus on student research, our students graduate with a very competitive resume that includes several publications and conference presentations, which makes them highly competitive in the job market.
How long is the degree?
The program takes approximately 4 years to complete.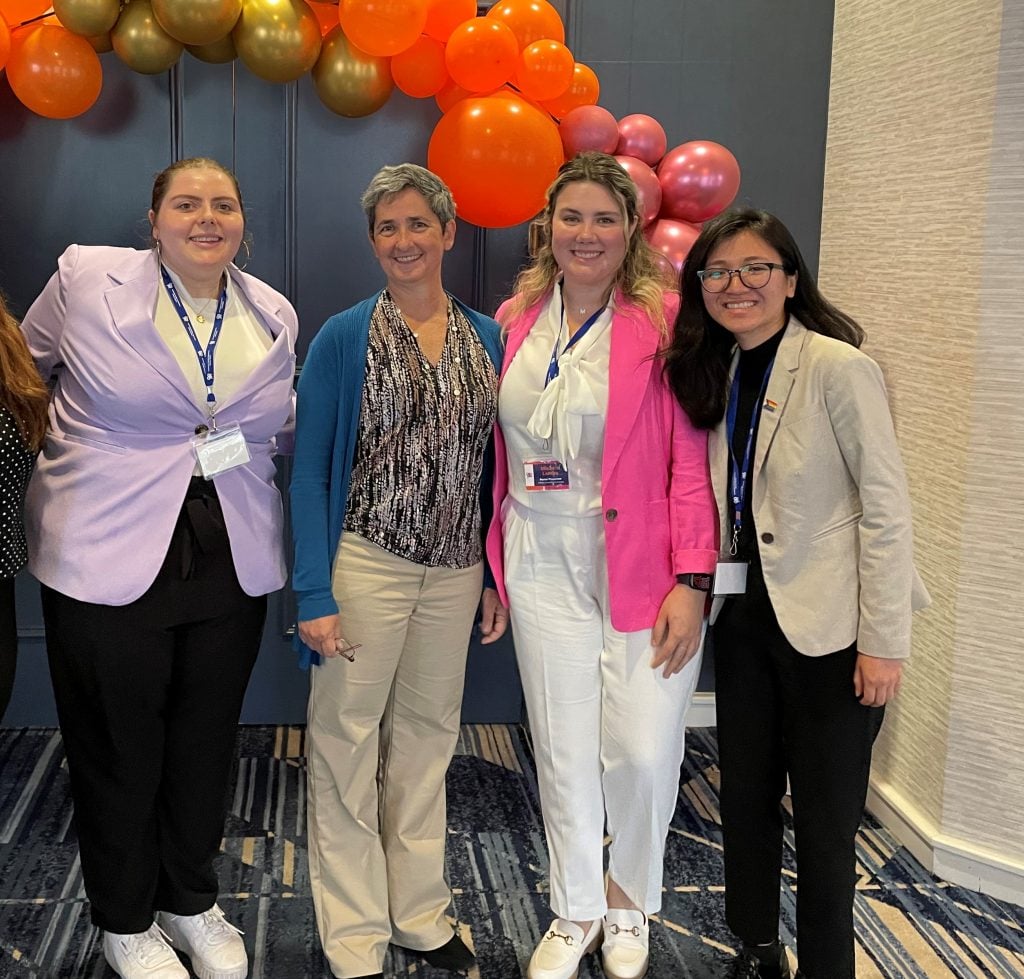 Elizabeth Cabrera (Health Promotion MPH student), Dr. Ibanez, Micaela Lembo (epi doctoral student), and Thuy-Thuong Nguyen (MPH epi student).
What areas of research can I get involved in as a student within this program?
There are several areas of research that students can get involved in. Currently, there are projects focused on substance use including tobacco, e-cigarettes, hookah smoking, and opioid use among women. There are several projects focused on HIV including mhealth intervention for Latino men who have sex with men, a large cohort study of women living with HIV and how to help HIV care be more women-centered; and a study on complementary medicine and older people living with HIV. In addition to these projects, there are also data sets that students can analyze and write papers on that focus on cardiovascular health, marijuana use, neurocognitive functioning, Covid-19, and transgender health issues.
Will the faculty/program be able to support my area of research?
It depends on your area of research. Our faculty covers a range of health issues and innovative methodologies, and therefore, I think we can support most areas of research. However, new students should always call the department to speak with a faculty about their specific interests.
What career opportunities will this degree provide?
Our students who have graduated with a doctoral degree have obtained positions in academic institutions as researchers and/or faculty; in government agencies such as the Centers for Disease Control and Prevention; in public health departments; and as consultants.
What recommendations could you give a potential student interested in applying for this program?
My main recommendation would be to do their research and review our website and speak to at least one faculty member about the program and their research. Students should have an idea of which faculty member they would like to work with based on their research interests. Potential students can also reach out to the admissions committee chair (currently Dr. Diana Sheehan) to ask about how to strengthen their application and make it more competitive before applying.