Catherine Coccia (pictured on the right in the above photo) shares information about the Ph.D. program at Stempel College's Department of Dietetics and Nutrition. Catherine is an associate professor in the department and also leads the Ph.D. program.
Tell us a little bit about yourself. What's your background and what type of research do you focus on?
My name is Catherine Coccia . I did my undergraduate and Master's degrees in Food Science and Human Nutrition with a focus on Dietetics at the University of Florida, which is where I completed my dietetic internship. After becoming a Registered Dietitian, I went to Florida State University, where I completed my Ph.D. in Family Relations. My research really focuses on two areas:
1. The role that family plays in the development of eating patterns and behaviors
2. The development of interventions to change eating behaviors in diverse and underserved communities.
You can learn more about my research by visiting nicelab.fiu.edu .
What makes this doctoral program unique?
The Dietetics and Nutrition doctoral program at Florida International University prepares students to become leaders in research, academia, governmental agencies, private industry, and community-based organization. Ultimately the Ph.D. is a research degree, and we encourage students to connect with a major professor (research mentor) early in the process so that they can begin learning the skills needed to be successful in their research areas. The curriculum has been designed to include flexibility so students can take classes most relevant to their topic area and future careers.
We recognize that having a strong support network is important and have instituted several strategies to help students engage with the departmental community. Students are admitted to the program in cohorts to develop bonds with their classmates. We have a mentorship program where new students are paired with more senior students to help them manage the transition into the Ph.D. program. Finally, we host several events throughout the year, including Ph.D. meetings, colloquium series presentations, and potlucks so that students and faculty have a chance to get together to learn and be social.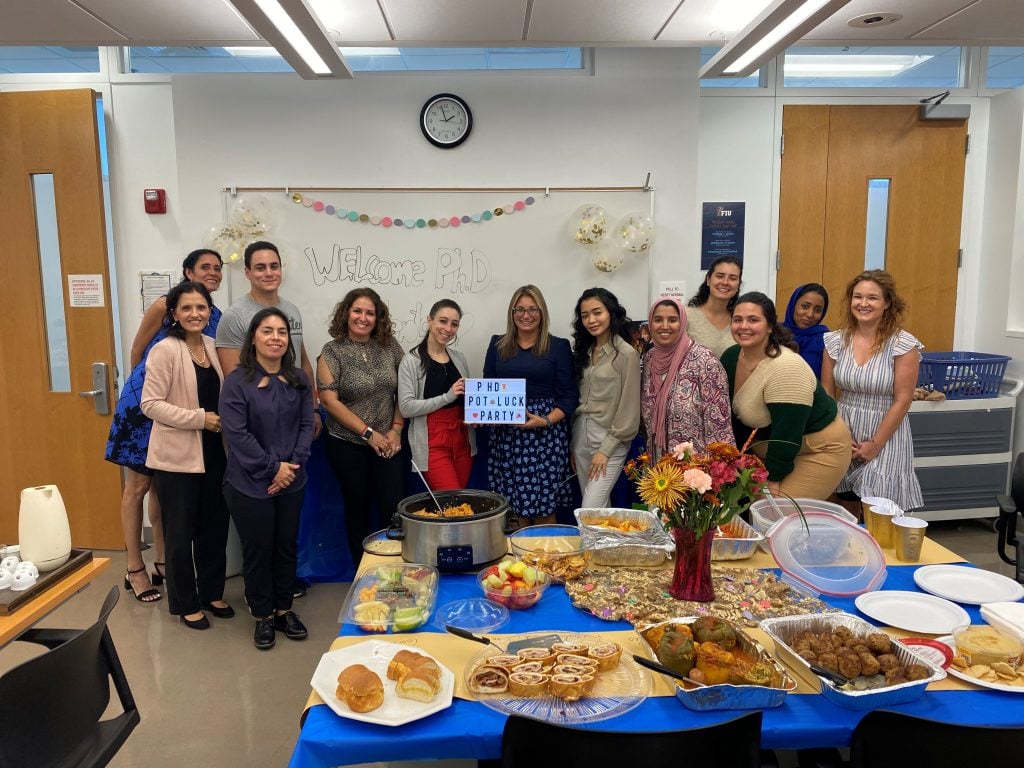 Ph.D. program potluck with faculty and students
With our focus on matching students to faculty mentors, having a strong research environment, individualized curriculum and setting up a supportive environment, we are confident that the Dietetics and Nutrition Ph.D. program at Florida International University is a place where students can learn and grow into successful leaders in the field.
How long is the degree?
The Ph.D. in Dietetics and Nutrition typically takes full-time students between 3-5 years to complete.
What areas of research can I get involved in as a student within this program?
Faculty in the Dietetics and Nutrition department work on a range of different types of research areas. Some examples include HIV and metabolism, COVID-19, food insecurity, the effects of dietary supplements and functional foods on bone and body composition, use of technology in behavioral change interventions, obesity prevention, infant nutrition, family and school nutrition, community-based interventions, gut microbiota, cardiovascular disease, zinc transport among others.
Will the faculty/program be able to support my area of research?
As a potential Ph.D. student, it is very important to find a faculty mentor who will be the best fit for you. As such, we strongly encourage students to review and identify Dietetics and Nutrition faculty members that they are interested in working with prior to applying to the program. Please reach out to individual faculty members to learn more about their research, available openings in their research labs and/or potential funding opportunities with their group. Explore and learn more about our faculty .
What type of funding possibilities are there for the Ph.D. in Dietetics and Nutrition at FIU?
There are several opportunities for Ph.D. student funding. You can find out more about those opportunities here. Please note that Ph.D. applicants are encouraged to submit their completed applications as early as possible to take advantage of all the funding opportunities in the College/University.
What career opportunities will this degree provide?
Graduates of the Ph.D. program work in various fields, including research, academics, government, and community organizations.
What recommendations could you give a potential student interested in applying for this program?
I would say that it is important to "do your homework." Review the Dietetics and Nutrition Ph.D. website, look at the curriculum and schedule, and investigate the faculty and their research. Reach out to faculty members and ask them questions, learn more about their mentorship styles, ask about what recent graduates are doing and talk to the students in their labs. If you have questions about the program, feel free to reach out to me (email at ccoccia@fiu.edu )!
It is so important to find out as much as you can about the program so you can see if it is a place where you will be successful. Remember, you want to find the Ph.D. program that is the best "fit" for you!